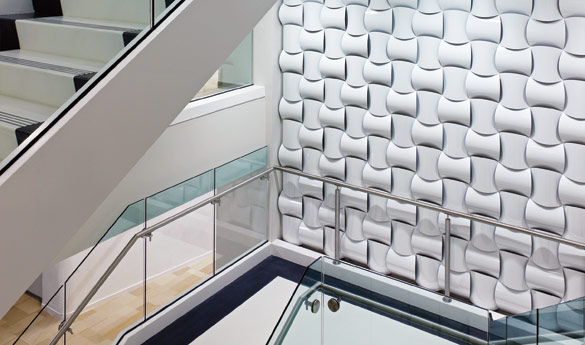 Take a peak at these modular wall designs brought to us by 3Form. Both of these two wall systems can be easily removed and rearranged as easily as a pair of socks! Such designs are great for exhibitions, retail stores or any location in which the decor changes often.
The photo above is the Wovin Wall from 3Form that is a series of  alternating tiles matched together to create a three-dimensional design. The Wovin Wall is available in many material options, such as wood veneer, anodized aluminum and polyresin. Depending on the material chosen, there is also a wide selection of color combinations available for the Wovin Wall.
Similar to the Wovin Wall, is the Wave Wall, seen in the second photo here. The wave effect of the Wave Wall is created by placing tiles in grooved aluminum extrusions. It is available in two patterns: continuous or alternating. Made in the same materials as the Wovin Wall, the Wave Wall is also available in a large variety of colors.
I'm thinking these would look great in an office space or hotel, or even as a funky wall piece in your home. Where would you use the Wovin or Wave Walls?