If you are looking for a comfortable and modern bed with built in nightstands look no further than the Meti Bed.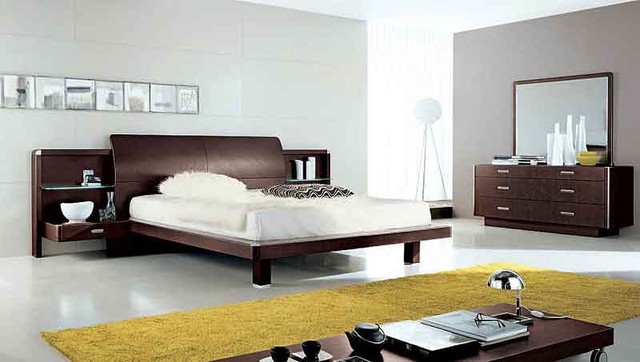 This beautiful bed is literally fit for a king, a california king to be exact, and features hidden storage behind the elegant arched headboard and attachable nightstands on both sides of the frame.
The arched headboard and bed frame has rounded edges for extra safety while sleeping and for you and the little ones while climbing into bed or romping around in the bedroom. The frame itself is built on a wooden slat system requiring no box spring which provides ample support and exceptional comfort.
The nightstands perfectly match the dark wood finish of the bed frame with visible wood grain equipped with a large spacious drawer with a rounded silver handle, crystal clear glass shelving and functional lights. Silver accents highlight the edges of the nightstands and bed frame for added luxury.
The frame design has a contemporary Japanese feel to it while the nightstands create an ultra modern appeal, making for an sophisticated combination which would look good in a variety of interior design settings. The large storage compartment hidden behind the headboard and the attached, matching nightstands are ideal for anyone looking to create a minimalist yet well put together bedroom design.