Flan is a delicious and easy to make dessert with many slight variations of it throughout the world. It is a moist and creamy treat with a subtle sweetness having the consistency of a soft custard but resembling a jello mold. In many Spanish speaking countries, flan is made using a few simple ingredients.
What You'll Need:
1 1/2 cups of sugar, divided
6 large room-temperature eggs
1 can sweetened condensed milk (14-ounce can)
2 cans evaporated milk (13-ounce can each)
1 teaspoon vanilla
6 individual custard dishes or ramekins
1/4 cup of water
While the ingredients are fairly simple, this is the type of dessert that requires your undivided attention while making it!
Preheat your oven to 325 degrees, place a pot over low heat on your stove and pour in 1 cup of sugar and 1/4 cup of water. Stir the sugar constantly as it warms until it becomes a brown liquid. Be careful to not burn it. You want to work at a faster pace when you pour the liquid into 6 individual custard dishes, tilt them from side to side to coat the entire bottom of the dish with the liquid.  With a whisk blend the eggs together in a bowl and add all cans of the condensed and evaporated milk. Mix them all together. Slowly add the remaining 1/2 cup of sugar and vanilla extract. Blend until smooth.
Pour custard mixture into each custard dish evenly dispersed. Place the custard dishes on a large glass or metal baking pan or casserole dish. Pour about 2 inches deep of hot water into the dish surrounding the custard dishes. Bake for 30 – 45 minutes. Check to make sure they are ready by inserting a knife or chop stick in the center of one of the servings, if it comes out with liquid residue on it, give them a few more minutes. Using baking mitts, take the custard dishes out of the hot water one by one and allow them to cool to room temperature.Then refrigerate for about an hour.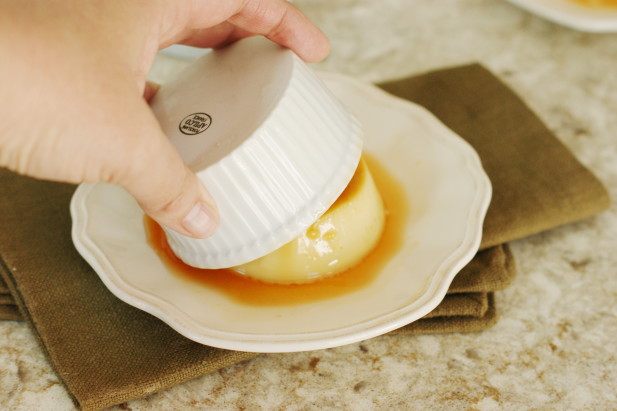 Once they have cooled, very carefully invert each custard dish onto a serving plate, you can delicately use a sharp knife around the edges to help it out, however they may slip out easily so just do this with step with care. As you do this very slowly, allow the caramel liquid that was on the bottom of the dish to ooze from the top of the flan down and around it.